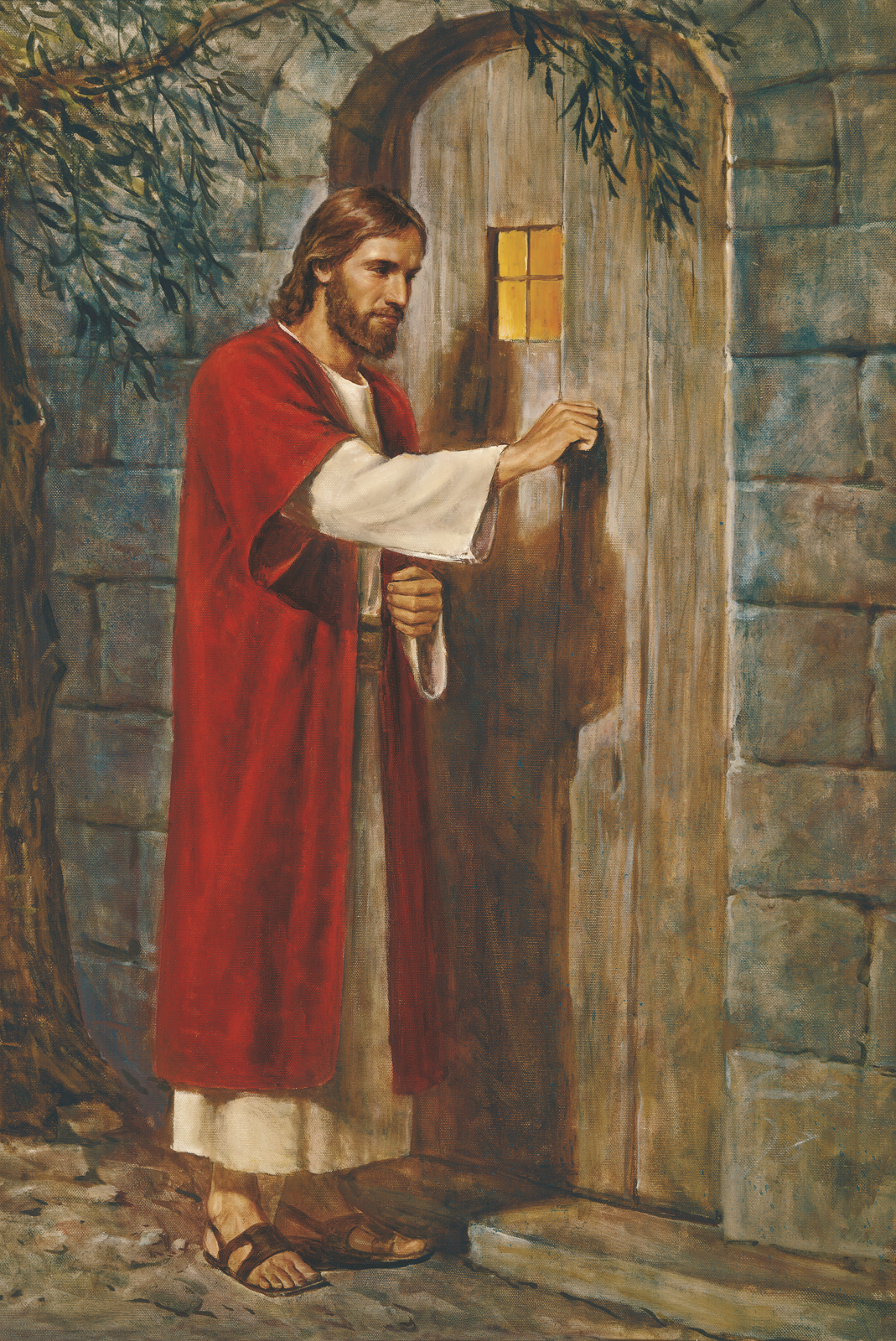 Do you know that Jesus stands outside the door of your heart, knocking to get in so that He can fellowship with you? Do you also know that there are consequences for refusing to open to Him? Hear His words —
Rev 3:20  Behold, I stand at the door, and knock: if any man hear my voice, and open the door, I will come in to him, and will sup with him, and he with me.
Allow me to paraphrase this a bit – "if any man hears my voice and opens the door of his heart to me, I'll come in and dine with him and he with me."
dine = deipneō; From G1173; to dine, that is, take the principal (or evening) meal: – sup (X -per). "I will come in to him, and will sup with him, and he with me – This is an image denoting intimacy and friendship. Supper, with the ancients, was the principal social meal; and the idea here is, that between the Saviour and those who would receive him there would be the intimacy which subsists between those who sit down to a friendly meal together. In all countries and times, to eat together, to break bread together, has been the symbol of friendship, and this the Saviour promises here." [1]
Having a relationship with God entails the same dynamics of any personal relationship. In order to get to KNOW someone we must talk with them, ask questions and share our thoughts and feelings as well. Getting to know someone requires lots of time and effort. It isn't quick and easy like speed dating, or the Bachelor TV show (ridiculously idiotic concepts in my opinion) in which both parties are flung into intimate settings and intimate relationships far too quickly, exposing their hearts to unnecessary hurt from not having adequate safeguards in place. Dear Reader, the purpose of Marriage is to provide the necessary protection for your HEART, so that you won't suffer unnecessary hurt from sudden rejection and/or abandonment by one who hasn't made a COMMITMENT to love and stay with you! Love today isn't much more than physical attraction. In many cases couples merely live together and are intimate without a promise of fidelity or a commitment to stay, leaving hearts unprotected. Granted, there's no guarantee that a husband or wife will uphold their wedding vows; divorce has been around a long time but it has never been God's will – 1Co 7:10  And unto the married I command, yet not I, but the Lord, Let not the wife depart from her husband…
Mat 19:3  The Pharisees also came unto him, tempting him, and saying unto him, Is it lawful for a man to put away his wife for every cause? 
Mat 19:4  And he answered and said unto them, Have ye not read, that he which made them at the beginning made them male and female, 
Mat 19:5  And said, For this cause shall a man leave father and mother, and shall cleave to his wife: and they twain shall be one flesh? 
Mat 19:6  Wherefore they are no more twain, but one flesh. What therefore God hath joined together, let not man put asunder. 
Mat 19:8  He saith unto them, Moses because of the hardness of your hearts suffered (allowed) you to put away your wives: but from the beginning it was not so. 
Mat 19:9  And I say unto you, Whosoever shall put away his wife, except it be for fornication, and shall marry another, committeth adultery: and whoso marrieth her which is put away doth commit adultery. 
Marriage between one man and one woman is God's will for most – [2]. 1Co 7:2  Nevertheless, to avoid fornication, let every man have his own wife, and let every woman have her own husband. Gen 2:24  Therefore shall a man leave his father and his mother, and shall cleave unto his wife: and they shall be one flesh. 
In God's eyes, MARRIAGE is a COVENANT between two people which BINDS them together forever, not for as long as it's convenient or pleasant. Marriage is not only a safeguard for your heart, but is the perfect environment in which to raise children. God's will for a married man and woman is to "be fruitful and multiply" [3]. That's always been His will and it STILL IS. Nothing has changed with God for He "is the same, yesterday, today, and FOREVER." [4]
Marriage has another purpose; it unveils the mystery of oneness between God and His Church – Eph 5:31  For this cause shall a man leave his father and mother, and shall be joined unto his wife, and they two shall be one flesh. Eph 5:32  This is a great mystery: but I speak concerning Christ and the church. Marriage may seem old fashioned or outdated to modern society, but it's HOLY to Almighty God; a sacred union to be respected and guarded at all times, in every generation!
I believe there's more than one reason I write about 'marriage' today, and it's that the Marriage Supper of the Lamb of God is now ready, awaiting only for His Bride to come and dine with Him!
The Parable of the Wedding Feast —
Mat 22:1  And Jesus answered and spake unto them again by parables, and said, 
Mat 22:2  The kingdom of heaven is like unto a certain king, which made a marriage for his son, 
Mat 22:3  And sent forth his servants to call them that were bidden to the wedding: and they would not come. 
Mat 22:4  Again, he sent forth other servants, saying, Tell them which are bidden, Behold, I have prepared my dinner: my oxen and my fatlings are killed, and all things are ready: come unto the marriage. 
Mat 22:5  But they made light of it, and went their ways, one to his farm, another to his merchandise: 
Mat 22:6  And the remnant took his servants, and entreated them spitefully, and slew them. 
Mat 22:7  But when the king heard thereof, he was wroth: and he sent forth his armies, and destroyed those murderers, and burned up their city. 
Mat 22:8  Then saith he to his servants, The wedding is ready, but they which were bidden were not worthy. 
Mat 22:9  Go ye therefore into the highways, and as many as ye shall find, bid to the marriage. 
Mat 22:10  So those servants went out into the highways, and gathered together all as many as they found, both bad and good: and the wedding was furnished with guests. 
Mat 22:11  And when the king came in to see the guests, he saw there a man which had not on a wedding garment: 
Mat 22:12  And he saith unto him, Friend, how camest thou in hither not having a wedding garment? And he was speechless. 
Mat 22:13  Then said the king to the servants, Bind him hand and foot, and take him away, and cast him into outer darkness; there shall be weeping and gnashing of teeth.
Mat 22:14  For many are called, but few are chosen. 
The 'chosen' or 'elect' of God are those whom He 'foreknew' would keep His commands; these seek to please God regardless of the cost to themselves. The 'called' are those who've been 'invited' to the marriage supper, but REFUSE to come – But they made light of it, and went their ways, one to his farm, another to his merchandise… They were TOO BUSY attending to their own affairs!
Likewise, those who refuse to 'open' when Yeshua comes knocking on the door of their hearts seeking relationship with them, are REFUSED entrance to His Kingdom —
Luk 13:23  Then said one unto him, Lord, are there few that be saved? And he said unto them, 
Luk 13:24  Strive to enter in at the strait gate: for many, I say unto you, will seek to enter in, and shall not be able. 
Luk 13:25  When once the master of the house is risen up, and hath shut to the door, and ye begin to stand without, and to knock at the door, saying, Lord, Lord, open unto us; and he shall answer and say unto you, I know you not whence ye are: 
Luk 13:26  Then shall ye begin to say, We have eaten and drunk in thy presence, and thou hast taught in our streets. 
Luk 13:27  But he shall say, I tell you, I know you not whence ye are; depart from me, all ye workers of iniquity. 
Luk 13:28  There shall be weeping and gnashing of teeth, when ye shall see Abraham, and Isaac, and Jacob, and all the prophets, in the kingdom of God, and you yourselves thrust out. 
Luk 13:29  And they shall come from the east, and from the west, and from the north, and from the south, and shall sit down in the kingdom of God. 
Luk 13:30  And, behold, there are last which shall be first, and there are first which shall be last. 
That last verse, Lk 13:30 is explained by Mat 21:31 (Jesus saith unto them) Verily I say unto you, That the publicans and the harlots go into the kingdom of God before you. Those who think they're more righteous than certain sinners (as mentioned above) because they have an outer show of religion but whose hearts are full of wickedness, will find themselves LAST or 'least' in the kingdom, while the repentant 'sinners' who they looked down on, will be FIRST in the kingdom. 'first' = in rank, influence, honour / 'last' = of rank, grade of worth, last, i.e. lowest
Mat 5:17  Think not that I am come to destroy the law, or the prophets: I am not come to destroy, but to fulfil. 
Mat 5:18  For verily I say unto you, Till heaven and earth pass, one jot or one tittle shall in no wise pass from the law, till all be fulfilled. 
Mat 5:19  Whosoever therefore shall break one of these least commandments, and shall teach men so, he shall be called the least in the kingdom of heaven: but whosoever shall do and teach them, the same shall be called great in the kingdom of heaven. 
Mat 5:20  For I say unto you, That except your righteousness shall exceed the righteousness of the scribes and Pharisees, ye shall in no case enter into the kingdom of heaven. What were the Pharisees if not hypocrites? Mat 7:5  Thou hypocrite, first cast out the beam out of thine own eye; and then shalt thou see clearly to cast out the mote out of thy brother's eye.  hypocrite = hupokritēs; From G5271; an actor under an assumed character (stage player), that is, (figuratively) a dissembler
Men can fool other men with an outward appearance of righteousness through doing so called 'good deeds' and keeping various religious sacraments and rites, but they can't fool God. God sees and judges the thoughts and intents of men's hearts [5]. He readily forgives the penitent and contrite of heart [6], but hypocrites (who pretend to believe but really don't) will be thrown into outer darkness with unbelievers, where there will be weeping and gnashing of teeth [7].
A STERN WARNING to PASTORS, BISHOPS, PROPHETS, APOSTLES, & TEACHERS:
Mat 24:42  Watch therefore: for ye know not what hour your Lord doth come. 
Mat 24:43  But know this, that if the goodman (overseer; pastor, etc.) of the house (God's household) had known in what watch the thief (false teacher, heretical doctrine) would come, he would have watched, and would not have suffered (allowed) his house to be broken up. 
Mat 24:44  Therefore be ye also ready: for in such an hour as ye think not the Son of man cometh. 
Mat 24:45  Who then is a faithful and wise servant, whom his lord hath made ruler over his household, to give them meat in due season? 
Mat 24:46  Blessed is that servant, whom his lord when he cometh shall find so doing. 
Mat 24:47  Verily I say unto you, That he shall make him ruler over all his goods. 
Mat 24:48  But and if that evil servant shall say in his heart, My lord delayeth his coming; [8]
Mat 24:49  And shall begin to smite his fellowservants, and to eat and drink with the drunken; 
Note the contrast between a good and evil servant. A good servant 'watches' over God's household, nurtures it, and doesn't allow it to be 'broken into' – diorussō penetrate burglariously: – break through (up). He won't allow a 'thief' to break in and steal the sheep through false doctrine. An evil servant does the opposite as he smites his fellow servants, and eats and drinks with the drunken! 'smite' = metaphorically to wound, disquiet one's conscience; 'eat and drink' = metaphorically to devour, consume; 'drunken' = metaphorically one who has shed blood or murdered profusely. You can wound someone's conscience by teaching them to sin against it – telling them to ignore what their conscience is convicting them of, and by living a sinful life-style thereby setting a bad example to those who look to you for guidance in matters of faith! You can murder someone's soul by teaching that God's commands aren't valid for today, and therefore can be set aside. Who do you think God will hold responsible when those so taught end up in Hell? Who's responsible for watching over God's household, and sounding the alarm when he sees the wolf coming? The servant or overseer of God's Household!
Mat 24:50  The lord of that servant shall come in a day when he looketh not for him, and in an hour that he is not aware of, 
Mat 24:51  And shall cut him asunder (cut up by scourging, scourge severely), and appoint him his portion with the hypocrites: there shall be weeping and gnashing of teeth. 
Joh 10:12  But he that is an hireling, and not the shepherd, whose own the sheep are not, seeth the wolf coming, and leaveth the sheep, and fleeth: and the wolf catcheth them, and scattereth the sheep.
Mat 7:21  Not every one that saith unto me, Lord, Lord, shall enter into the kingdom of heaven; but he that doeth the will of my Father which is in heaven. 
Mat 7:22  Many will say to me in that day, Lord, Lord, have we not prophesied in thy name? and in thy name have cast out devils? and in thy name done many wonderful works? 
Mat 7:23  And then will I profess unto them, I never knew you: depart from me, ye that work iniquity. 
The workers of iniquity won't make it into God's Kingdom. Iniquity = anomia; From G459; illegality, that is, violation of law or (generally) wickedness: – iniquity, X transgress (-ion of) the law, unrighteousness. Thus, the scripture here speaks of those who profess to know God but teach others to disobey and/or disregard God's instructions; a very grave offense. Conversely, the truly righteous who DO His will shall enter the marriage and be glad – Rev 19:7 Let us be glad and rejoice, and give honour to him: for the marriage of the Lamb is come, and his wife hath made herself ready!
 AMEN! The Lamb's wife is preparing herself to live and reign with Him forever! She isn't idle while waiting for Him, nor does she engage in IDOL worship with idol worshipers, but fully devotes herself to living according to His righteous decrees even when it isn't convenient. If you refuse to open the door of your heart to Christ now when He comes knocking, He will likewise refuse to let you into His Kingdom when you go knocking on His door – Luk 13:25  Once the Master of the household gets up and shuts the door, and you're standing outside and begin knocking on the door, saying, 'Master, open up for us,' then He will say to you, 'I don't know where you come from.' [Tree of Life Version]  
Footnotes:
[1] Albert Barnes' Notes on the Bible
[2] Some choose to remain single, like Paul – 1Co 7:6  But I speak this by permission, and not of commandment. 
1Co 7:7  For I would that all men were even as I myself. But every man hath his proper gift of God, one after this manner, and another after that. 
1Co 7:8  I say therefore to the unmarried and widows, It is good for them if they abide even as I.
1Co 7:32  But I would have you without carefulness. He that is unmarried careth for the things that belong to the Lord, how he may please the Lord… 
[3] Genesis 1:22
[4] Hebrews13:8
[5] Hebrews 4:12
[6] Psalm 51:17
[7] Mt 22:13, Mt 24:51
[8] This passage is, in fact, "a parable," though it is not expressly so called. The design is to show that his disciples should act as if they were each moment expecting his return. This he illustrates by the conduct of a servant who did not expect his master soon to return, who acted with great impropriety, and who was accordingly punished. ~ Albert Barnes' Notes on the Bible
*Words of Christ are in red text throughout.