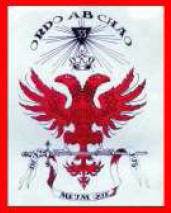 We've reached a marker, a point in history at which many are reversing God's order of things, like male and female, right and wrong. They're doing this by changing their sex via hormonal manipulation, and blurring the demarcation between the sexes by cross-dressing and same-sex marriage. These trends aren't really about individual rights or freedom to make one's own choices, but about reversing God's natural order of things and removing God, His Name, and His Law from every sector of society in an effort to create chaos and destabilize it. This is what the Progressives, and others like them, are after, this is their game plan and they will do anything to accomplish it.
Various movements have been slowly progressing towards this end for quite awhile, but now, they've become MILITANT, demanding ACCEPTANCE from society and that society change its mores to suit their beliefs and life-styles! Many in these movements spew vile speech in the name of 'freedom' of course, the very freedom brave men and women fought and bled for in order to protect their freedom of speech, and other freedoms which these bullies abuse to push their agenda. Bullies don't have enough I.Q. to know how to negotiate with others for what they want, or how to live peacefully side by side with others of different persuasions, different faiths, different colors, and different creeds. One reason is they really don't care about PEACE. Peace isn't their goal, nor EQUALITY. These bullies don't want to be merely equal, they want to PUSH their beliefs and life-styles upon society at large. If they had their way, every child in America would be exposed to and INDOCTRINATED into the Gay, Lesbian, Trans-sexual, Trans-Gender life-styles. If Progressives had their way, traditional marriage between one man and one woman would become defunct, and be rejected by future generations in favor of same-sex marriage. Today the term, CHOICE is associated with everything that's ungodly, anti-Christian, anti-Bible, and anti-life. Satan has surely done a good job at deceiving many with his TWISTING of terminology – nothing new there, the Serpent did the same thing in the Garden of Eden with Adam and Eve [Gen 3].
What none of these bullies realize is that while they'll be allowed to cause trouble for a season, their causes will fail in due time, and in the end they'll be judged and sentenced to everlasting flames, unless they repent of their wickedness. Those who refuse to repent will face judgement and be punished accordingly.
Psa 2:1  Why do the heathen rage, and the people imagine a vain thing? 
Psa 2:2  The kings of the earth set themselves, and the rulers take counsel together, against the LORD, and against his anointed, saying, 
Psa 2:3  Let us break their bands asunder, and cast away their cords from us. 
Psa 2:4  He that sitteth in the heavens shall laugh: the Lord shall have them in derision. 
Psa 2:10  Be wise now therefore, O ye kings: be instructed, ye judges of the earth. 
Psa 2:11  Serve the LORD with fear, and rejoice with trembling. 
Psa 2:12  Kiss the Son, lest he be angry, and ye perish from the way, when his wrath is kindled but a little. Blessed are all they that put their trust in him. 
While wrath awaits the wicked, God has provided a 'way of escape' for those who turn from their sins to Him for forgiveness, cleansing, and restoration of the soul. Only righteous Christians who's sins are covered by Christ's Blood, escape God's wrath because they believed in and received Christ as Lord and Savior during their life times, Joh 5:24 Verily, verily, I say unto you, He that heareth my word, and believeth on him that sent me, hath everlasting life, and shall not come into condemnation; but is passed from death unto life. Everyone else is subject to the Law of God which states, "the soul that sinneth shall die" (spiritually). That law still binds those who refuse to receive Christ, Joh 3:18  He that believeth on him is not condemned: but he that believeth not is condemned already, because he hath not believed in the name of the only begotten Son of God. 
Hiding behind a facade of equal rights, the wicked plot to create 'chaos' through rioting, violence, wars, genocide, false flags, plagues, disasters, spreading disease, economic collapse, destruction of the family, sexual perversions, corrupting the school system with Socialistic dogma, degrading God and His authority, disintegration of society, and shattering societal norms into a thousand little pieces. "Ordo Ab Chao" [1] or "Order out of chaos," written on America's One-dollar bill, is a goal the United Nations [2] is vastly involved in.
"Secret Societies have a great motto 'Ordo Ab Chao' meaning 'Order Out of Chaos'. Agendas are formulated designed to give the powerful more power. Chaos is created, and media blitzed. Then cries go out for solution. Laws are passed which could never have been passed without the chaos. The order, has reigned through deception of the masses, and the agenda is accomplished." –James Arthur, "Mushrooms and Mankind"
It would be to America's (and the world's) advantage to dissolve the United Nations, for it is an EVIL, corrupt organization due to its Socialist-Marxist-Communist core beliefs and plans for the world. I've often felt that the U.N. was a major player in the End-times game plan, and could be the headquarters of the New One-World Order government. "The United Nations is a de facto global government and does not rule by the consent of the governed. The United Nations is a global government to which American politicians of both parties have surrendered our Constitutional rights." [3]
"On transfer of sovereignty to the United Nations, those who do not conform to United Nations authority will be considered RESISTERS and declared ENEMIES OF THE GOVERNMENT. Public statements in support of the old ways and favoring continued United States nationalism will be considered ENEMY DOCTRINE." [4]
Once society is destabilized, it becomes easy prey for a 'take over' by some ideology like the Progressive/Socialist movement. If one takes a look at the past rise and fall of nations, this is easily seen. Nations become weak through careless, greedy, or inept rulers, and when they turn away from God and His laws, as did Israel many times.
The United States of America started out as a God-fearing nation, one which honored God and His laws, and which based its government upon biblical principles [5]. Thus, if America turns her back on God, will she not incur judgments like Israel did? God hasn't changed his modus operandi, He's the "same, today, yesterday, and forever" [Heb 13:8]. I really like that about Him because I don't have to worry what kind of mood He's in on a given day, if He'll ever stop loving me, or if He'll withdraw His salvation on a whim. Thankfully, God isn't fickle like man! In my opinion, nothing this world has to offer can compare to the glory, riches, and honor that will be given to those who receive Him now. This world is just a 'temporary' dwelling place for Christians, who know that their real, everlasting abode is with God and Christ in the New Jerusalem, the City of God which will descend from heaven.
When Jesus Christ returns He comes to depose all ungodly governments and thrones, to round up the wicked for the flames, and to gather His Elect unto Himself [Mt 13:49, 24:31; Mar 13:27]. Who's side are you on? Are you on the side of the unjust wicked, or God's side? Exo 32:26 Then Moses stood in the gate of the camp, and said, "Who is on the LORD'S side? let him come unto me." There is no middle ground! There is no compromising! Jos 24:15 "choose you this day whom ye will serve!" Mind you, God hasn't changed! He's still asking every man or woman, "Who's side are you on?" If it be God's, then come over to Him, if it be the devil's then to him you may go, but woe to you if you do! The Devil or Satan, has nothing but fear, enslavement, hatred, murder, deception, death, darkness, and everlasting damnation to offer you! I can't understand WHY anyone would want to follow Satan when his reward is only eternal damnation in a fiery hell. The only explanation which makes sense, is that they've been 'blinded', and therefore can't see that they're being manipulated and used by him to do his dirty work on earth, 2Co 4:3 But if our gospel be hid, it is hid to them that are lost: In whom the god of this world hath blinded the minds of them which believe not….
Despite all the raging and tumult of nations, God has given his Elect many wonderful assurances such as Psa 46:10 Be still, and know that I am God: I will be exalted among the heathen, I will be exalted in the earth. 
No matter what wicked plans unfold, the Almighty God is in control!
And all His saints say "Amen!"
FOOTNOTES:
[1] This term Order out of Chaos, in Latin Ordo ab Chao, is the slogan of the 33rd degree of Freemasonry. https://en.wikipedia.org/wiki/List_of_Latin_ phrases_(O) http://www.orwelltoday.com/stagedevents.shtml 
[2] https://en.wikipedia.org/wiki/United_Nations
[3] https://beforeitsnews.com/prophecy/2016/01/pope-francis-exposed-the-one-world-religion-has-arrived-and-is-now-being-executed-video-2476626.html
[4] https://www.bibliotecapleyades.net/sociopolitica/esp_sociopol_un04.htm
[5] https://www.fbalions.org/editoruploads/files/Middle%20School/Our%20Nation%E2%80%99s%20Biblical%20Foundation.pdf